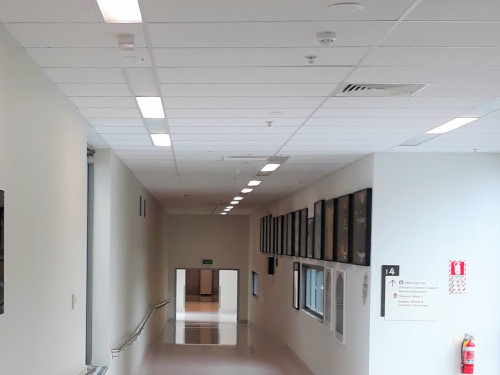 COMPLEX NEEDS
Ecopoint understands the complex demands of hospitals and the need to save energy and costs in this environment. We have both standard and specialist solutions available for the healthcare environment.
Our clients are major hospitals throughout New Zealand, and Ecopoint can provide solutions from simple bathroom and hallway lighting, through to complex operating theatre lighting solutions,
UNIQUE ENVIRONMENT
Hospitals present unique challenges. They are large buildings, operating around the clock and they have huge energy needs. With a wide variety of different spaces to light, from hallways to carparks, cafeterias to storerooms, operating theatres, patient inspection rooms, x-ray rooms and more, each space has its own unique and often specialist requirements.
In a fiscally tight environment, the less spent on energy means more funds available for other areas, such as patient care. This makes the switch to LED lighting the logical and simplest step to reducing energy and maintenance costs and reducing the carbon footprint of the organisation.
Healthcare Industry Clients
Ecopoint has worked with many hospitals throughout New Zealand on a variety of retrofit projects, and we have a number of projects underway with others:
Wellington Hospital: relationship since 2012 with 8,000+ LED fittings installed (more) and specialist solutions developed such as the Cyanosis Tube (more) and the Green Tube for operating theatres.
Christchurch Hospital: LED solutions for hallways, external lighting, office/staff areas, bathrooms and kitchens.
Whanganui Hospital: partnered with Honeywell as part of their Energy Performance Contract, fitting out hallways and office areas.
Timaru Hospital: Partnered with Honeywell and supplied LED products for patient rooms.
Wairarapa Hospital: LED panels for hallway and office areas.