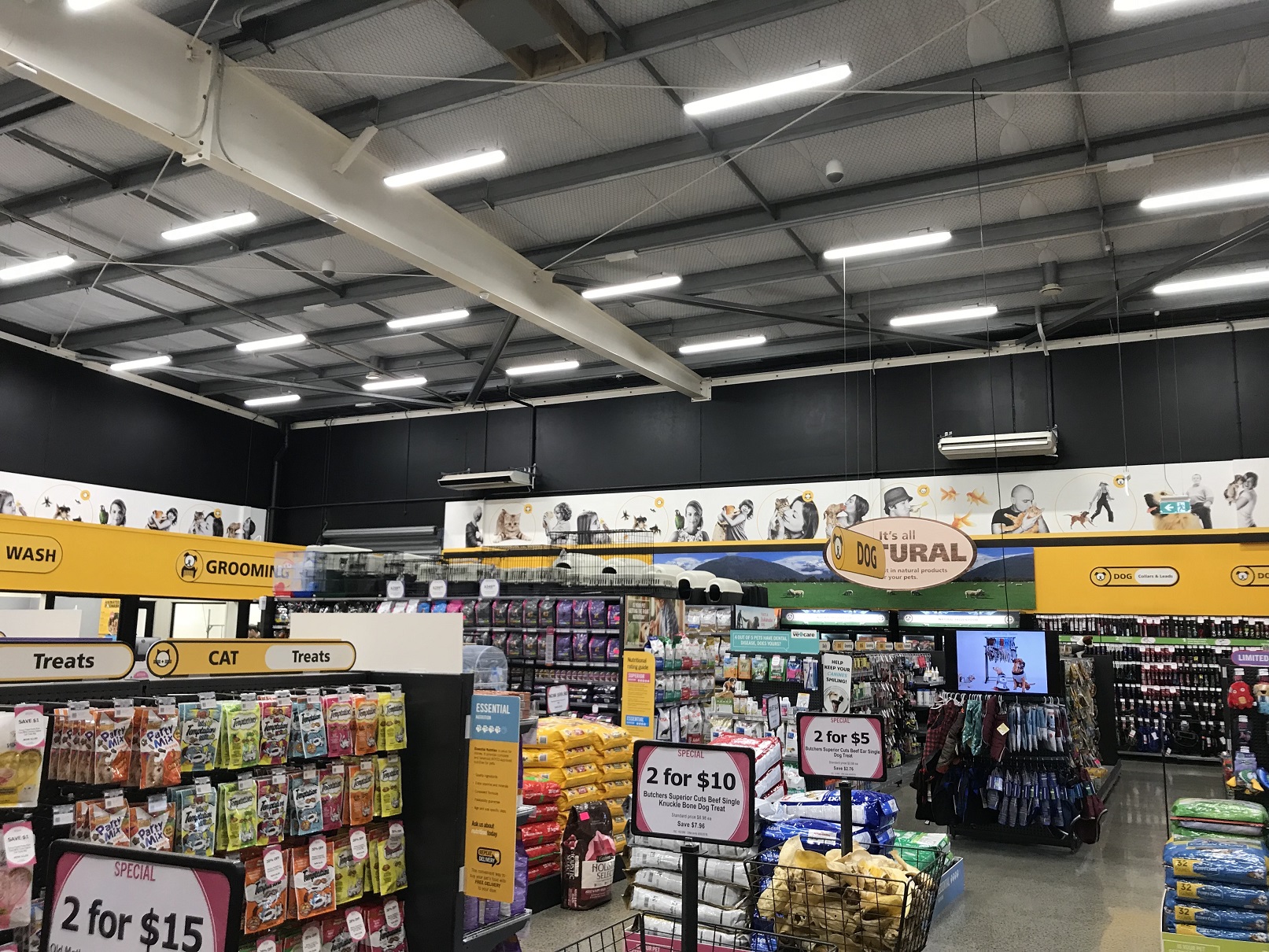 Location
Animates Palmerston North


THE CLIENT
Animates is passionate about providing the best pet supplies, pet care and services for all pets. Foremost to this is providing an excellent retail experience for customers, and the highest standard of care for pets requiring vet services.
Ecopoint has worked with Animates since 2014 providing lighting plans and LED lighting product for retrofits and new fitouts in more than 30 stores around New Zealand.
THE OBJECTIVE
Animates Palmerston North opened in an existing building and required a full lighting fitout to meet the Animates brand standard. This included a site-specific lighting plan, plus fulfilment of all LED lighting products. The lighting plan was based on Animates' design standard for the lighting outputs in each area of the retail, clinic and back of house zones – 24 separate zones in total.

"We've worked with Ecopoint for a while now and we know we can rely on their product range and quality"
HILDA PARAHA: PROJECT MANAGER, ANIMATES
THE SOLUTION
With a wide variety of task-based and retail lighting requirements in the Animates environment, Ecopoint was able to supply LED lighting products to suit specific requirements in each room. Including low glare options.
Ecopoint worked in close consultation with the Animates project manager to determine the best lighting solution for the site, taking into account the Animates guidelines. For example, the following requirements were in place for the various spaces around the premises:
| | |
| --- | --- |
| ZONE | HORIZONTAL ILLUMINANCE |
| Stockroom | 550 Lux (1m above floor level) |
| Office/Staffroom | 450 Lux (1m above floor level) |
| Toilet | 350 Lux (1m above floor level) |
| Fish Room | 350 Lux (1m above floor level) |
| Bird Room | 150 Lux (1m above floor level) |
| Dog Wash | 1,000 Lux (1m above floor level) |
THE PRODUCTS
The following Ecopoint products were used at Animates Palmerston North:
600x600 Backlit Panel (UGR<19)
Used in Dog Wash, Cat Kitchen, Isolation Room, Cat/Dog Ward, Reception, Consult Rooms, Prep Area, Corridors, Office, Staffroom
600x1200 Backlit Panel (UGR<19)
Groomer Entrance, Grooming Room/BOH, Reception, Prep Area, X-Ray, Operating Theatre, Retail
Surface-Mounted Ceiling Light
Cattery, Bird Room, Fish Room, Toilet
LED Long Bay 1500
Stockroom